6 Best Valentine's Day gifts full of love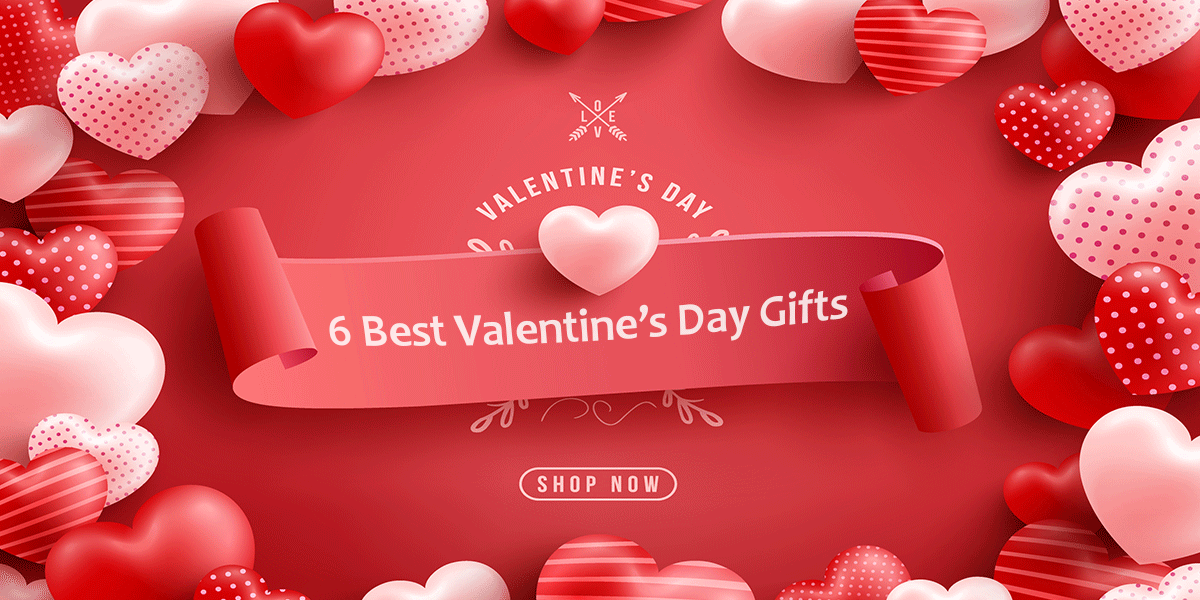 On the most romantic day of the year, give your partner, family, and friends a romantic gift to enhance the relationship between you. Let's imagine, on this romantic day, the street is filled with the smell of roses and chocolate. Having a candlelit dinner with your lover in such an atmosphere, and sending you prepared in advance of the gift. What a romantic thing!
We have provided a list of the best gifts for Valentine's Day. There are gifts for him, for her, and of course for family and friends. Each gift is practical and loving. On February 14th, it's definitely the best idea to give your lover a gift. These gifts will definitely make him/her feel your love every day after Valentine's Day.
- A romantic gift for her/him that can't go wrong!
If your boyfriend loves outdoor sports, then an action camera is very suitable for him. If your girlfriend is not very fond of excitement and adventure, but she loves to travel or record daily life, then sports cameras are also very suitable for her.
It has the functions of high resolution, anti-shake, waterproof, wide-angle, lightness, and multiple installation methods which can record the user's movement process well. Especially suitable for people who like cycling, motorcycles, diving, skydiving, bungee jumping, or even shooting video blogs.
Give your lover such an action camera so that he/she thinks of you all the time when he/she uses the camera for sports or travel shooting. You can even use this camera together to "clock in" several romantic things that you must do in love, such as going on a hot air balloon together, embracing skydiving, bungee jumping, diving, etc. to record every moment of your love. And complete every love challenge! Hurry to buy and plan your love travel!
- Enjoy your intimate time
Your boyfriend can use the big screen to enjoy his gaming experience or action movies. Your girlfriend can use it to enjoy her weekend time, like buying some snacks at home and enjoying a cinema-like feeling!
At the same time, it brings every romantic evening to you and your lover, not just a gift on Valentine's Day, but every night using the projector in the future will be extra romantic. Sitting on the sofa, using the projector to show the romantic drama, and hanging lights around, brings a different atmosphere to your night!
In addition, with a projector, you can also enjoy time with your family on weekends and even take it outdoors to have a barbecue with a movie! Come and buy to enjoy each of your romantic nights! 
- The time has come to show that you are his sweetheart!
Does your lover often drive? Do you always worry about his/her safety? It's time to show your attentive moment! Prepare a dashcam for him/her to ensure the safety of the vehicle. The dash camera is a must-have thing for every man driving! At the same time, it is an indispensable thing for every female driver!
Owning a driving recorder can resist a lot of unnecessary troubles and disputes with your lover. Some dash cameras can even record images in the car to let you watch the scenery and your love story during the journey! Instead of worrying about whether your lover is safe to drive and whether he will encounter trouble, it is better to solve the trouble for him/her in advance and install a driving recorder. Come buy and prove that you are his sweetheart!
- Increase the pleasure of long-distance driving
Prepare a portable DVD player for your lover to keep entertaining during long driving. It even supports game functions, giving you more opportunities for intimacy!
Why buy a DVD player? As we know, many classic movies can't be watched through the Internet, so we will buy many discs to watch our favorite movies. Imagine how romantic it is to review a classic love movie with a DVD player in your free time!
In addition, when you are driving during the journey, your girlfriend uses it to watch the movie on the headrest of the car. What a cozy scene! If you like a self-driving tour or love watching discs, this is definitely your best gift! Go shopping and enjoy your intimate time! 
- Give your lover security and become his/her Spiderman
It may feel boring to think of giving each other a security camera on Valentine's Day. Maybe you will think this is not romantic! But do you really know some uses of security cameras? Buying a camera for your lover can effectively protect your lover's safety and prevent "porch pirates"!
In addition, its most romantic advantage is that it can record interesting events at home in real-time, and it can be stored on the phone. This is also the reason why I didn't hesitate to buy it! Imagine that you are preparing surprises for your lover at home on his birthday. Recording these beautiful pictures of your daily life with a security camera. Every moment is the most precious memory!
Besides, the function of two-way conversation also allows you who are in a long-distance relationship to see each other and have a conversation all the time. Become the Spider-Man of your lover, provide her with protection, and use the camera to record the happiness videos of your love story!
- Be your girlfriend or wife "Baymax"
Prepare a battery camera for your lover, which can make it easier to install than a security camera! Outdoor battery cameras protect your lover like a protective film.
In addition, do small animals often appear in your garden? Give her a battery camera and simply install it outdoors to record night animals, which adds more fun to your life. No need to connect the power supply, no need to jack in, so you can feel at ease buying it for your girlfriend without worrying that she won't install it. Do you know "Baymax"? Prepare such a gift for your lover. You are the "Big Hero" in her life! Because you are protecting her at all times.
The above is our list of the best Valentine's Day gifts for 2021. Hope you can find the ideal gift for your lover from COOAU, and enjoy the romantic and intimate moments brought by Valentine's Day gifts!