The Best Portable DVD Player For kids in 2020
Nowadays, mobile phones, tablets, and laptops are devices that almost everyone has, and portable DVD players may not be the most important device. But it still brings some help and fun to your life, especially in cars and for kids or for long distance travel.
Now, let's see how to choose a portable DVD player?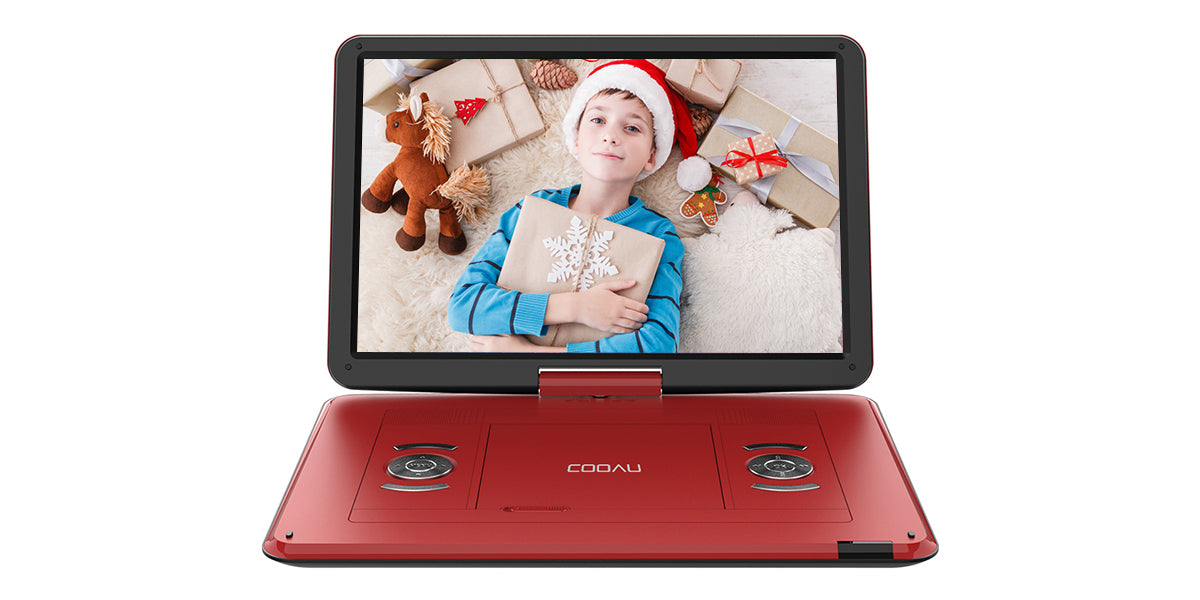 4 Highlight Features to Consider in Portable DVD Players
Choose the right screen size for your child
One of the most important factors to consider when buying a portable DVD player is the size of the screen. An 8-inch screen is usually considered just the right size when it comes to portable DVD players. However, if the kids are gonna use it for online classes or watching cartoons, suitable screen size will be better. It will make kids feel as if they are watching in a cinema.
Watch the video from the angle your child likes
The DVD player also comes with an HD display that delivers clear images in high resolution. Since the screen is LCD, it makes children watch movies and videos for an immersive experience.
Besides, DVD players have a swivel screen so that children can watch videos at whatever angle they prefer.
Is the best companion for children on the journey
The player can also be attached to the front seat headrest so that the child doesn't have to keep it on their lap or hold it. For people who are buying the device for young kids, this can be an important feature. Now children can play their favorite movies on road trips. No more worrying about endless boring hours on the road.
At the same time, DVD players have an anti-shock system to ensure a smooth watching experience even when driving on rugged terrain.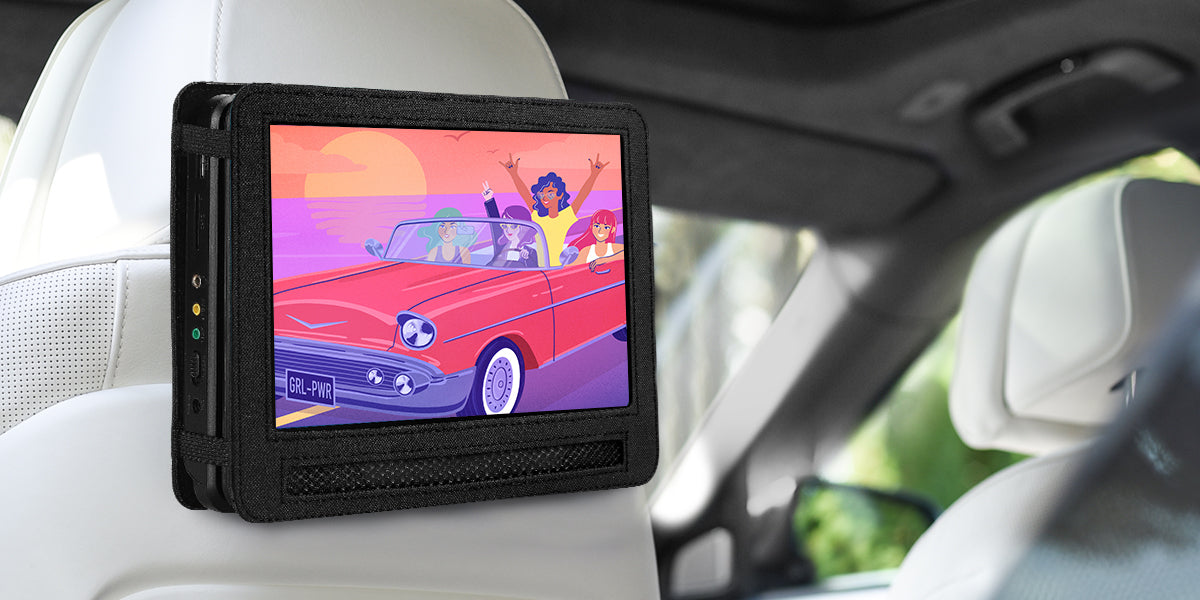 Control the machine remotely to protect eyesight
With the function of remote control, DVD players can be controlled from a distance. Kids also can control all functions without even moving, which makes it extremely easy to use for kids. In addition, you can control the distance between children and DVDs to get the effect of protecting their eyes.
6 Other Features:
Support almost all cartoon formats
The DVD player also supports a large variety of formats. Now you can play media in almost every format without going through the hassle of converting them from one format to another. It can play formats including H.264 MP4 MPEG-4, AVI, MOV, WMV, WMA, WAV, CD-R/RW, DVD -R/+R, DVD+RW/-RW, VCD, JPG, JPEG, etc thousands of formats. Besides, it is also stored by USE and SD cards.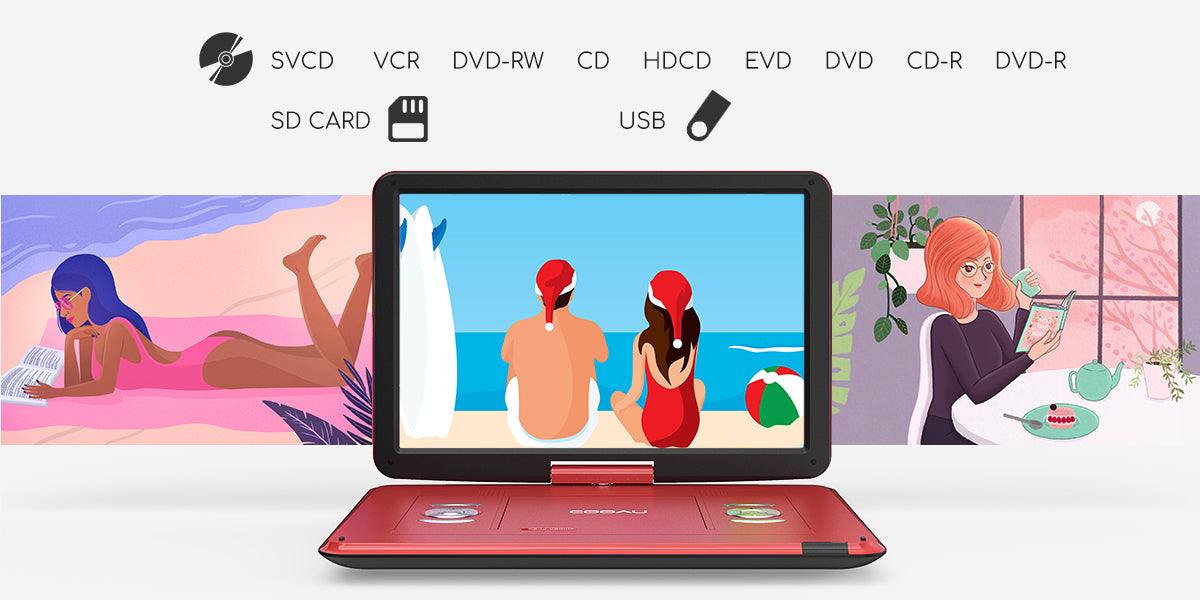 Reduce the hassle of watching from scratch
With the point break memory function, there is no need to go through the hassle of starting all over again from the beginning. Just switch feature on and video will start right where you left it the last time.
Loud sound gives children a better experience
With dual stereo speakers, DVD players offer louder sound volume than ever before. It also provides a clear sound to improve movie experience. 
Can be connected to the TV to watch together
AV output allows you to connect the player to a TV so that your kids can watch their favorite movies and videos on a bigger screen. Moreover, you can use an AV to AV cable to share movies played on different players at the same time.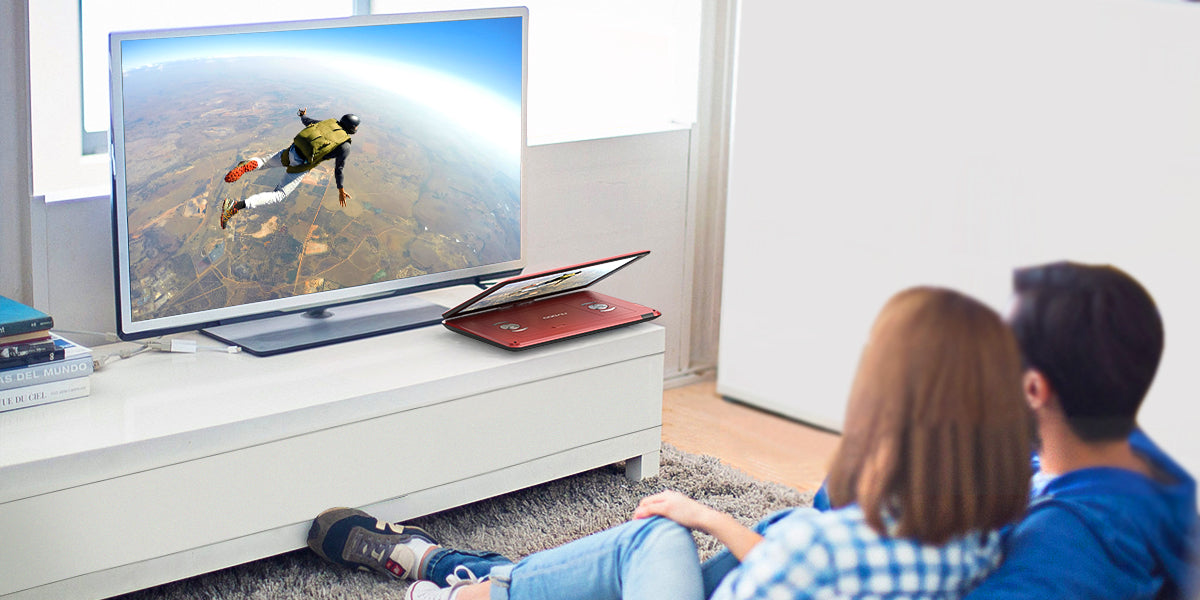 Don't worry about machine downtime
The rechargeable battery is large enough to last for several hours so that you can enjoy long road trips without worrying about a machine shut-down. Not to mention that you can also use a car charger or AC adaptor to charge it. 
Children can immerse in their own world
If you don't want to disturb people around, you can simply plug in the headphones and immerse into your own world. It is always helpful to have dual headphone jack so that you can share movies or music with your friend.
 COOAU Best Portable DVD players:
Product name

DVD Player CU-103

DVD Player CU-121

 

 

Product Image

 

 

Screen size

10.5-inch

15.6-inch 

 Display screen

LCD with LED backlight

LCD with LED backlight

Resolution

1024*600

1400*800

Rotation angle

270-degree

270-degree

Remote control

√

√

Battery

Built-in 2500 mAh: up to 5 hours

Built-in 5000 mAh:up to 6 hours

Supported formats

H.264, MP4, MPEG-4 other thousands of formats

H.264 MP4 MPEG-4

other thousands of formats

Breakpoint function

√

√

Anti-shock function

√

√

AV output

√

√
Diverse product options can also bring more confusion. Does this function really require? How to use the function? Which are the most essential functions? All this together builds up the reason why we write down this article?  
Now, can you choose the best portable DVD player for the kids as a gift?