The Best Security Cameras for watching dogs, cats, birds and other pets
One of the hardest things for pet keepers is to leave their pets at home alone. Have you ever worried about them getting lost or being stolen? And wonder if they are well-behaved while you are not home?
11 Things You Need to Know About Camera for Pet Monitoring
High resolution for clear image
-High definition lens
High resolution and pixel contribute to remarkable picture quality. Decisions can be made among 1080P 4MP that provides clear enough image at a cost-effective price, 1080P 8MP that pursue higher picture quality or 4K 12mp.
Send alert when motion and sound detected
-Motion detection
The pet cameras have the function of recording video automatically and sending real-time alerts to mobile phones when sound, movements, or faces are detected. Whenever the dog barks, you can immediately check if strangers break-in or the dog is feeling uncomfortable, or he is just showing off after messing up the house.
See clearer even at night
-Night vision
The pet monitor with night vision to clearly observe pet's behavior at late night while you are asleep.
Frankly saying, if you are looking for a bird/squirrel/mouse watching camera, this could be one of the most essential features to look for.
Where their cave is? When they come out from "home" for food? All their activities are kept on record.
This is how to enjoy the fun of animals, especially nocturnal animals watching.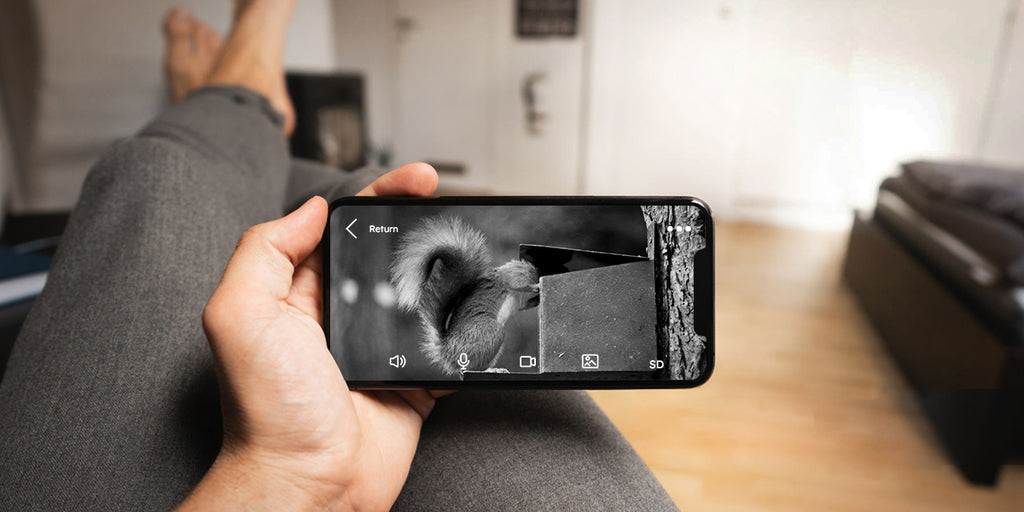 Must have for outdoor pets watching
-Waterproof
As another essential feature, or more likely to say, the most important one for an outdoor pet cam, waterproof is designed to resist bad weather including raining and snowing.
The waterproof security cam is perfect for observing birds on porch beam, squirrels in the garden, and other animals that build "homes" at unreachable tall secret places.
Bring each other closer together
-Two-way audio communication
The two-way audio function is designed for easy communication. To stop a Husky from "tearing" the house apart, to comfort an anxious cat, or to have your pets answer the door.  
You can easily find those funny videos about pets staying at home alone.  The two-way audio function will absolutely bring more fun for animal watching and surprises you with the hidden talent of your pets.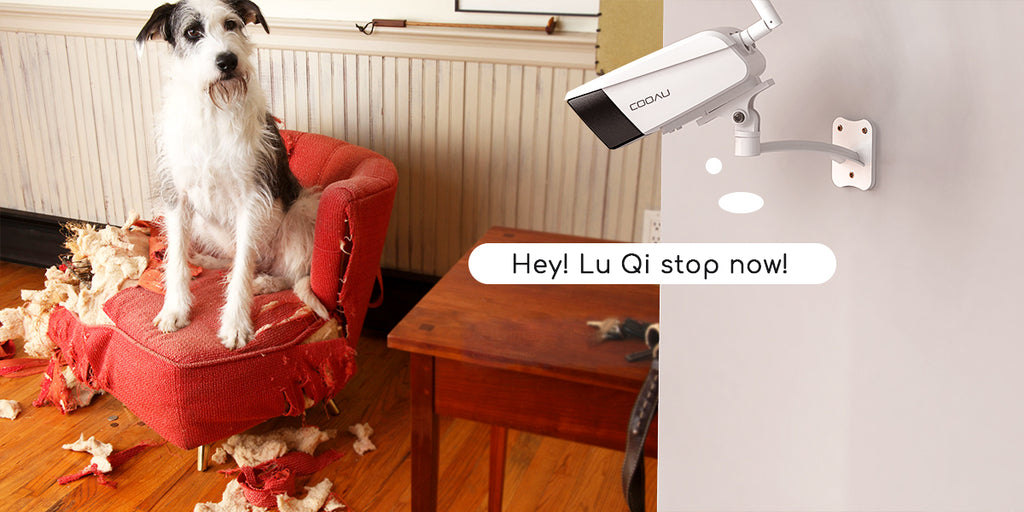 Share the video with families
-Multiple devices
APP brings convenience to video watching. No matter it is Android IOS or Windows system, you can view real-time or playback surveillance footage anywhere at any time.
Moreover, it allows multiple devices to access at the same time. Which makes it perfect for sharing and enjoying those funny videos with family members.
See a wider field of vision. Capture more on a wider frame
-Wide-angle
The pet monitor with the design of a wide-angle lens is supposed to capture a wider image on one screen. Track with puppy and kittens activities without any dead spot, not even at the corner.
With facial detection and a rotatable lens, it follows the puppy all the way within its rotation range.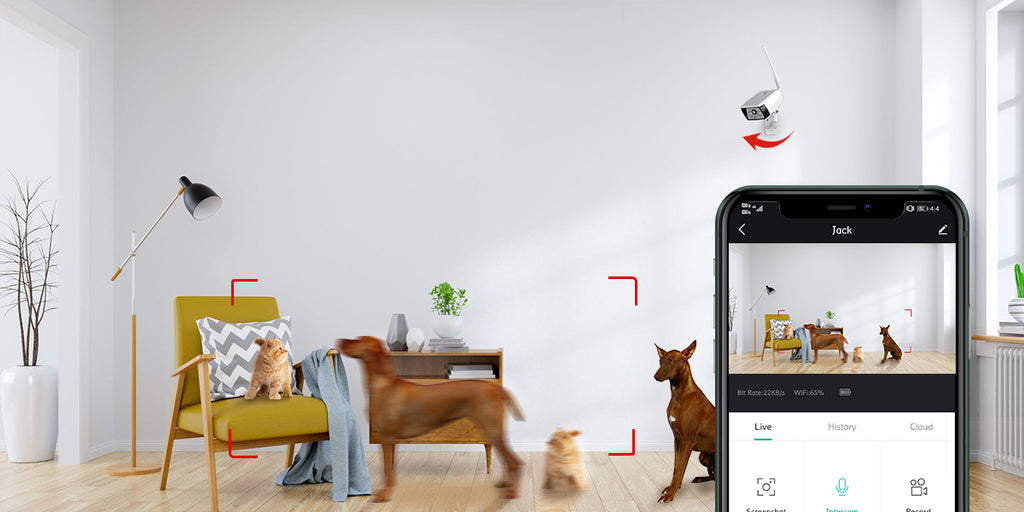 Smoothly playback without freeze picture
-No lag playback
A high definition lens contributes to clear images. While a qualified pet camera also requires smooth playback experience.
As dogs and cats run around in the house, jumping climbing up and down, a surveillance camera offers real-time videos with no lag playback that is as important as good quality images. Choppy or jerky video is absolutely not acceptable.
Data protectionAnti-hacking
-Anti-hacking
Data protection can secure video footage transmission and upload. There is no worry of any hackers getting access to your home IP camera.
The method of memory storage
-Multipe storages
Both micro SD card storage and cloud storage can be used for pet cameras. The SD card can store up to 128G of memory, but once the memory is full, the previous video will be automatically overwritten. Therefore, to storage precious images, you might need to frequently plug out the card and export manually.
However, the cloud storage function will automatically upload and save it for you.
Additional features
-Not required for everyone
In addition to the features mentioned above, more considerate features are added to the product.
Treat dispensers are certainly the latest feature. If you travel a lot or plan on a long vacation, this could be a really helpful feature for pets feeding and caring.
Some pet cam might also include laser pointer games to play with your cats while away from home.
Of course, pets monitor with the additional features mentioned above comes at a higher price.
Benefits of having a pet camera?
Having a pet camera can truly change the way you stay connected with your puppies or cats. You will have fewer worries and this can help you to build a better relationship between the two of you.
So, do you know how to choose a pet monitor?