Use the trail camera to find critters and vandals
Is your garden often damaged? Are your letters often stolen? Do you live in a wild animal prone area? Do you want to conduct environmental science research? Owning a hunting camera can solve all of your problems above! It is suitable for hiding in the wild, and it can capture some unique images and videos, such as garden vandals, thieves, cute animals, and so on.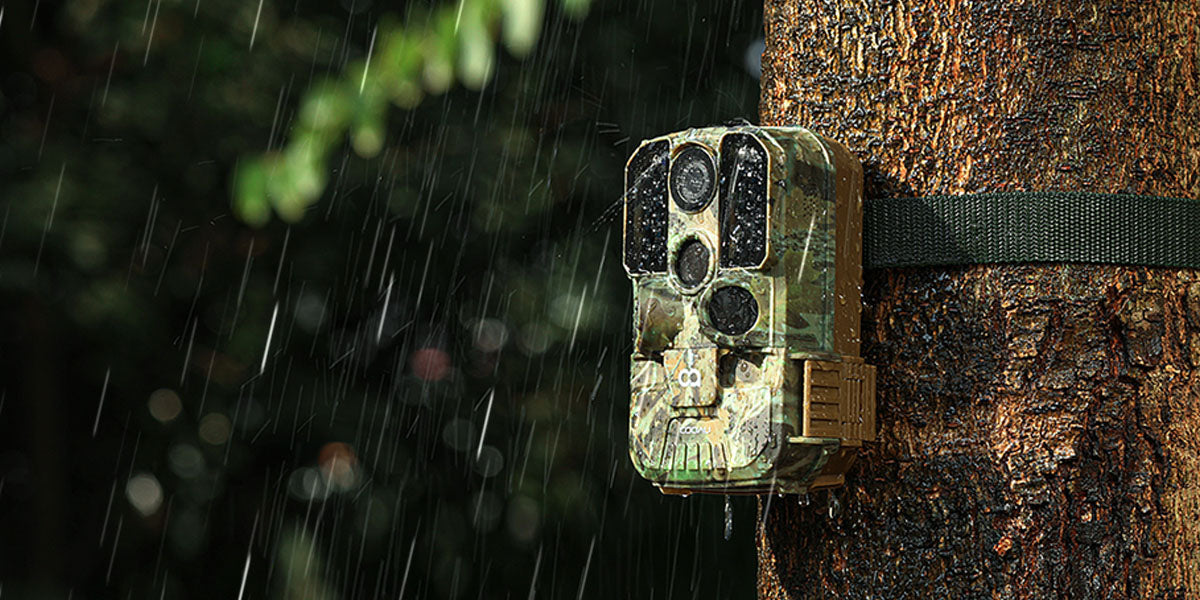 - 24MP Clearer Image + 1296P Sharper Video Resolution
COOAU wildlife camera captures 24MP clear images and 1296P video with a 130°detection angle helps you capture vivid characteristics of wildlife and show the most primitive pictures and record every moment of vivid wildlife and spectacular nature with rich details.
- Faster Trigger Speed
With 3 PIR sensor head and CMOS sensor, once detecting the movements, the hunting camera will be triggered instantly without delay. You will never miss any exciting moments, even at night. The trail camera will detect movements of wild animals once they enter the detecting range 20m (65ft) distance, fast 0.2S trigger time will not miss capturing animals flashing.
- Excellent Sensitivity with 3 PIR
The trail camera will detect the movements of wild animals or thieves as soon as they enter the detecting range. With 3 passive infrared sensors, the high-sensitive camera detects and records every breathtaking motion with lower power consumption.
- Advanced Night Vision
The hunting camera has 38pcs 940nm low-glow infrared LEDs range 65FT(20m), clearly shows you the night behavior of animals without disturbing them, you will never miss a wonderful shot even at night time.
- IP66 Waterproof and Sturdy
With IP66 waterproof, the sturdy case protects your hunting camera from rain and dust damage. And it also could work in tough environments like deserts or tropical rain forests. It contains a mounting strap. It is easy to install this trail camera wherever the wildlife camera is headed.
- WiFi Connection and APP Control
Download the APP on your phone to connect with WiFi and control the camera. You can adjust the setting and check the photo / video on the phone directly. the remote control has the limitation of range.
A wildlife camera with the above functions can play its best role. It can not only capture the "vandals" passing through your garden, porch thieves, the growth process of animals and plants, license plate numbers, environmental science research, but also various rare wild animals. It can satisfy any curiosity about what happens at night!
Hurry up and buy such a trail camera to find critters and vandals! If you have more uses, please let me know in the comments below, I will explore with you!