What do I need to know before buying a projector?
Should I buy a projector or a big-screen TV?
Projector! The projector can be used without a screen, and you can project it onto a white wall. But with a screen will give better play to its performance. The size of the projector is much larger than that of the TV, and the price of the same size is much different. In addition, it can be placed anywhere at will, and even used to show movies during camping barbecues. The price is more favorable, the larger eye-protection screen and the multi-function advantages make the projector stand out.
Is the projector suitable for everyday use?
The projector can definitely be used every day! Because it can achieve absolute eye protection, and long-term use will not cause damage to the machine (though it may shorten the life of the bulb). More importantly, it is more favorable prices and a better viewing experience than most TV. It is definitely home devices you can't miss!
Why use a projector instead of a TV?
The projector doesn't occupy the wall area. You must install it on the wall or put it on a stand when using the TV which will take up a lot of your area. However, using a projector saves you the trouble of installing on the wall and saves your space. So that you can use it wherever you are, without having to be fixed in a certain place. And the bigger screen brings you a better viewing experience!
Can I watch normal TV on a projector?
If you have an HDMI projector, watching normal TV is OK. And in most cases, the projector can play the same channels as the TV through the HDMI cable box. A larger screen allows you to better watch a live game!
Is a projector better for your eyes?
Yes!  In fact, the screen of the projector suits your eyes better. Because it can produce larger images and reduce eye fatigue. In addition, the projector reflects light and the TV emits light, so the image presented by the projector is more beneficial to the eyes than the TV.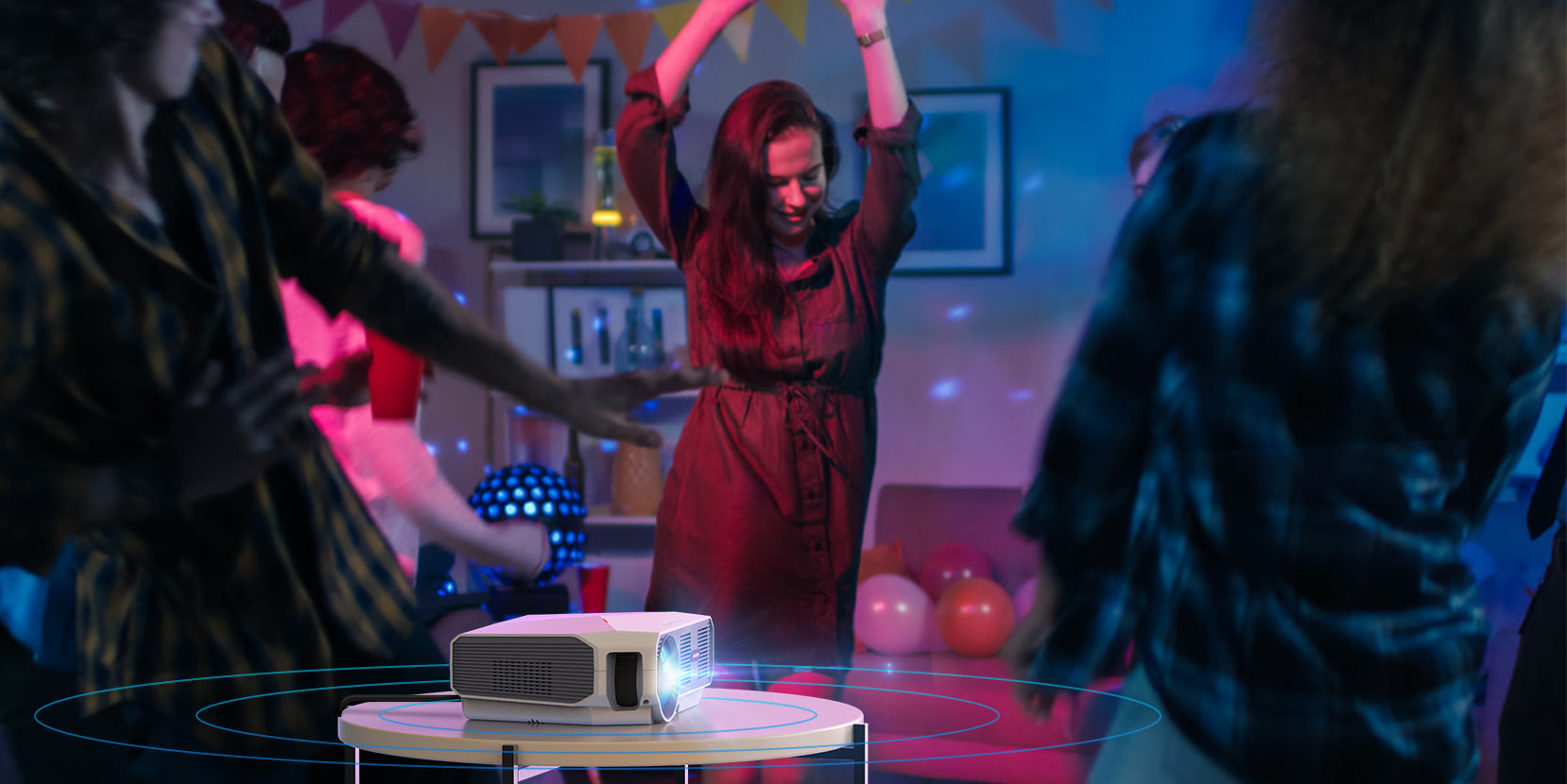 - High Brightness & Quality Image
COOAU A4300 home theater projector is equipped with a high light transmission glass lens that helps reduce reflections and increase light transmission, making the projector easily produce a sharper image. With 1080P resolution, 5500 lumens, and 4000:1 contrast, this video projector shows a bright screen with fantastic image clarity. Immerse yourself in the movies and fully enjoy the home theater!
- Excellent Sound & Advanced Cooling System
Combining 3 characteristics: clear, loud, adjustable, the speaker will be excellent while enjoying your movie and gaming time. With the innovative cooling system that 2 fans running simultaneously, the heat dissipation effect is increased by 20% compared with other projectors. Therefore, the LED lamp won't give off too much heat, which ensures the constant excellent performance of the projector.
- Multimedia Home Theater Projectors
Our projector has complete ports such as USB/HDMI/ VGA/AV. You can connect it with various peripheral devices such as TV stick/TV box/PC/smartphone/DVD play/USB stick/Laptop/PS4/X-Box etc. The projector will release a 45-200 inch display with a projection distance of 4.6ft-18.7ft. This projector also supports a 25% zoom function adjustment. Easily get a suitable image size without changing the projector distance.
- Sync Smartphone Screen
A4300 projectors can support wired and wireless projection for iOS and Android devices. With an MHL/lightning-HDMI cable or Anycast wifi dongle, the A4300 projector can quickly recognize the Screen-mirroring Function from your phone and get smooth playback of videos.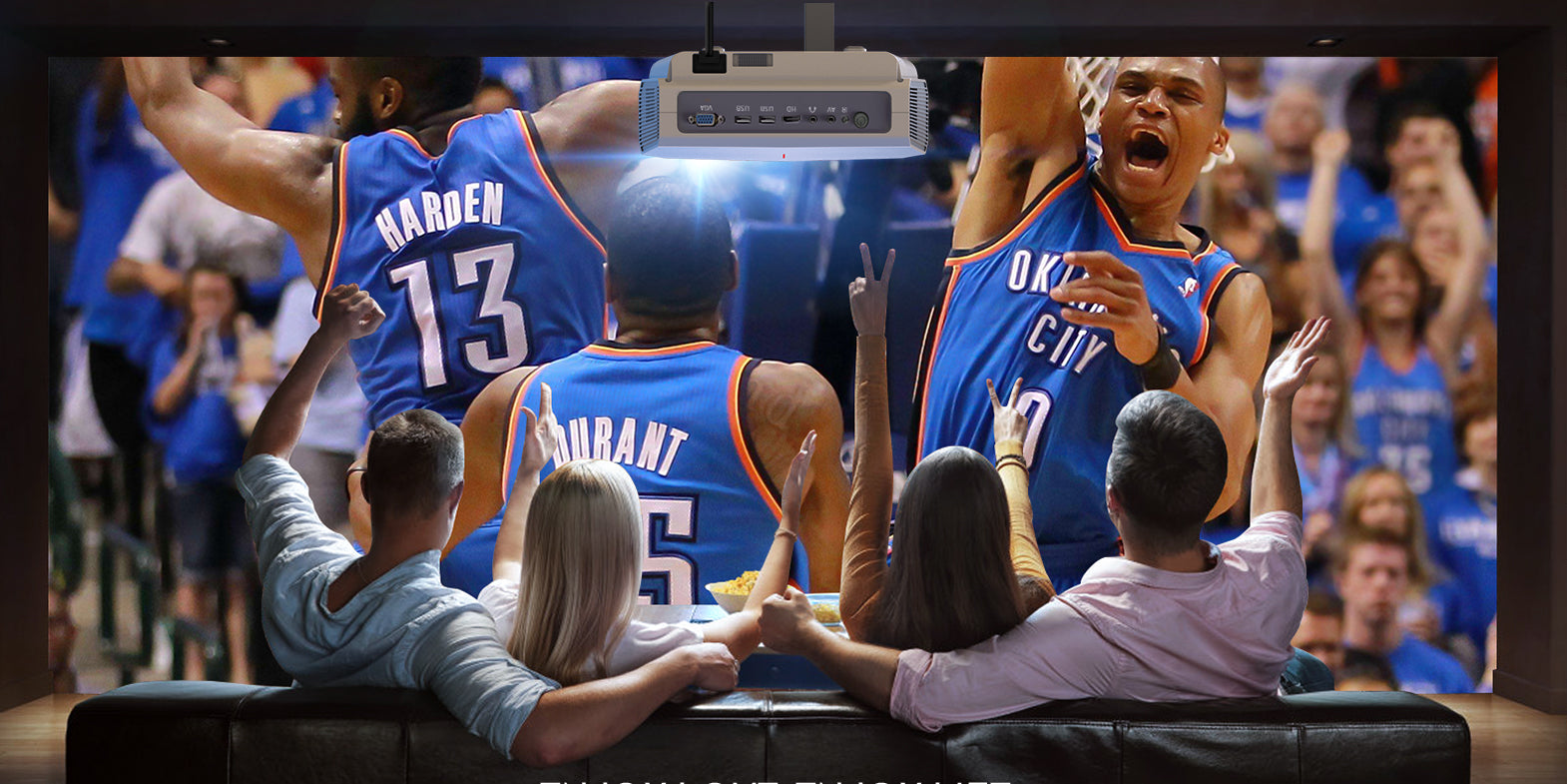 Why choose COOAU A6000 Projector?
True 1080 Full HD High Definition, 6,800 lm High Brightness 9,000:1 High Contrast, 300 inches Large Screen, High Sound Quality, Hi-Fi Speaker and Focus Easy Adjustment Diffusion Reflections that are gentle on the eyes, 100,000H High Durability.
- 1080 Full HD High Definition, 6,800 lm High Brightness
COOAU A6000 projector has a 1920x1080 pixel physical resolution for clear and bright images. This means it will project 225% more vivid full HD than the mainstream 720p projector. Unlike other projectors that project low-brightness power and low-light grain rough images, the COOAU A6000 is high brightness with 6800 lumens to project incredibly clear movie-like images.
- 9000:1 High Contrast 300 inch Large Screen
9000:1 High contrast allows you to see the details clearly and produce more realistic and dynamic videos. The large 300-inch screen will give you a breathtaking visual experience and an overwhelming immersive movie theater experience. Throw your feet and enjoy the perfect movie viewing experience.
- High-quality Hi-Fi speaker
Equipped with a high-quality Hi-Fi speaker, the sound quality is 60% more clearly and vivid. You can experience the immersive feeling of a movie theater on any occasion without having to connect to an external speaker. The nesting sound cavity not only helps to output sound but also ensures the fan quiet operation.
- Keystone Correction & Focus Adjustment
In addition to the vertical ±15° trapezoid correction function, it has a focus function and slides left and right for easy operation. Provides a clean project at any angle.360° inverted function, can be used for front/rear/ceiling projection. The product itself has a control button and remote control for intuitive navigation and function operation.
- Superior cooling system and durable
Features a unique turbine heat dissipation system and 4-channel beam provide 6,800 lumens of brightness. Even after long periods of use, it is virtually no heat, allowing you to operate comfortably while maintaining calmness. Using an efficient LED light source, it can keep projecting perfectly clear, crisp, and bright throughout the entire 100,000 hours of LED life.
- Wide Interchangeable
Equipped with AV/VGA/HDMI/USB, it can be used to connect various peripherals such as PC, DVD player, TV box, smartphone, tablet, USB memory, game console, Fire TV, Google Chromecast, etc. Equipped with a 3.5mm audio output, it can be connected to external speakers/headphones.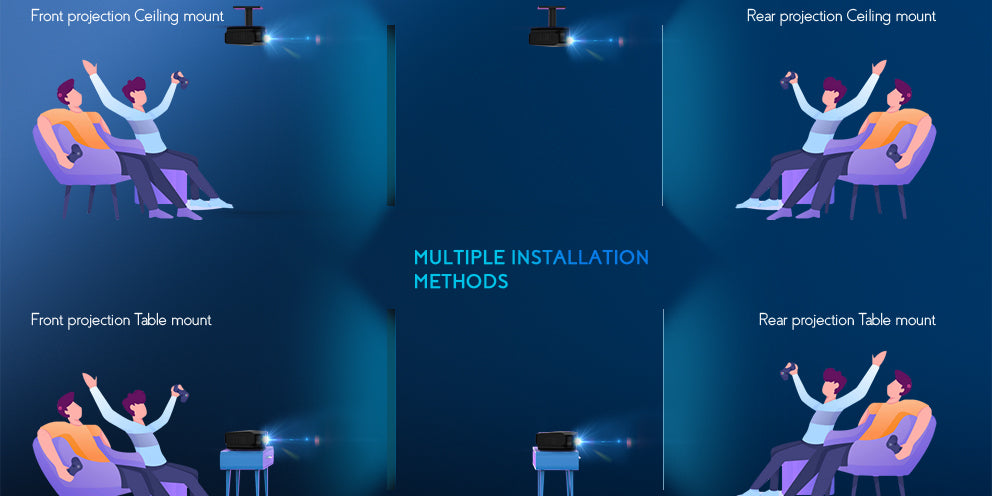 Most projectors support 1080P playing but have the real 480P or 720P resolution. COOAU A4300 is a real 1080P projector. The image is 2.25 times clearer than 720P projectors. Choose COOAU A6000, enjoy a clearer and more vivid image. With the 300 inches larger projection, fully enjoy high-quality home theater! At the same time, it is also an important appliance that enhances family happiness. Choose us to easily build your home theater!