How to host an epic outdoor movie party?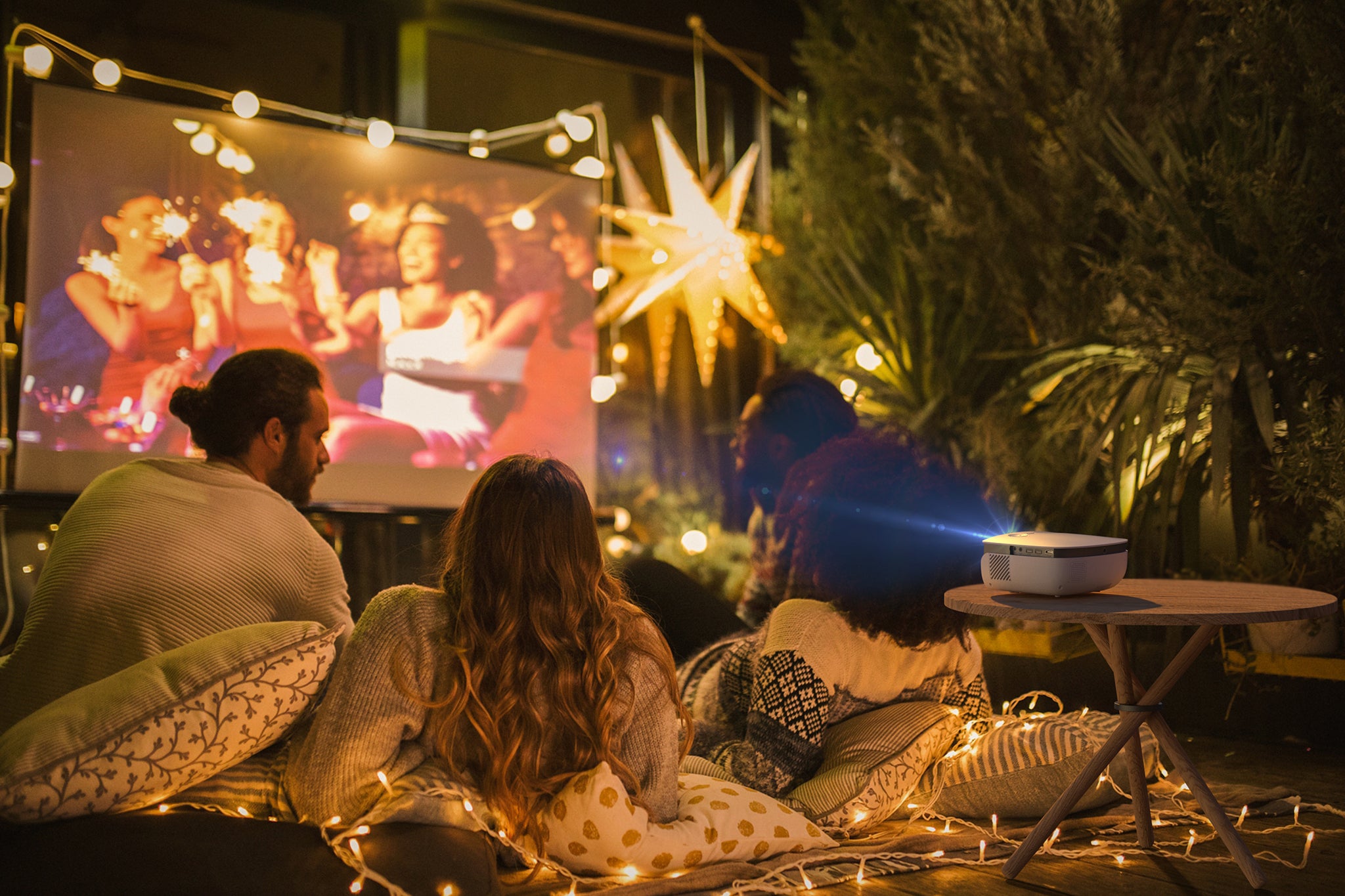 Are you a cinephile?
Are you obsessed with the immersive audio-visual effects of a movie theater?
Are you really into the drive-in movie theater?
Do you want to host a low-budget but awesome event with your beloved family and friends?
Do you want to host a warm gathering with more people but a simple layout?
Don't miss the comfortable outdoor temperature, gentle breeze, and brilliant starry night.
Just check the weather forecast, and let's have an epic outdoor movie party!
What do we need to prepare?
Sufficient preparation is the key to success. Let's see what can we do about our party!
-Choose a movie
What kind of movie do you want to share with your loved ones?
A classic Hollywood romance? A relentless fiction thriller? A super-futuristic Sci-Fi? A profound documentary? An interesting Chinese action movie? A cute comedy? Or does your crew prefer a big-budget blockbuster or an indie director's latest film? Of course, watching an anticipated season finale is also a capital idea!Before the party starts, everyone can talk about their preferences and discuss out a movie that best meets everyone's expectations! Of course, different types of movies will also create a different ambiance, so you could try more!
-Set up your movie screen
The best choice for an outdoor movie party is a projector! If you have a TV, it could also do the job, but you need to haul the TV outside and worry about whether it will be scratched. Besides, the anti-reflective property is also very important. The projector, however, does not have to worry about these problems at all! It is compact, light as well as portable. Many projectors on the market have HDMI interfaces and WiFi function. You can easily connect it with your mobile phone, computer, or USB. Moreover, projected images are softer on the eyes than emitted ones, and it is easier to create a gentle and calming atmosphere. The larger screen allows more people to watch at the same time, while also providing a better viewing effect. The screen is also very easy to buy or build, and you can even just project on your garage doors and walls!!!  For creating an effect close to a drive-in theater, recommend having an additional WiFi-enabled soundbar.
-Arrange the settings
A patio furniture set is a no-brainer. If you don't have one, of course, you can be more creative. You can buy the following products at will: floor pillows, picnic blankets, soft throws, colored lights, red carpets, balloons, etc., and then work with your friends freely to create a unique scene for yourself. These must be the most meaningful parts that will imprint on your loving souls.
-Prepare snacks and bug spray
Everyone can bring some family delicacies: Reuben Sandwich, Chicken fried steak, Meat Loaf, Chicago-style pizza. You could also host an outdoor barbecue party! Or just spend a little bit of time buying some small snacks that everyone likes to eat like cookie dough, hot dogs, coca-cola, graham crackers, and the classic one, popcorn. Of course, bug spray is so important! You won't want to hear the buzzing of mosquitoes all the time while watching a movie. A very thoughtful reminder here~
-Prepare some watching games
If you guys are not so serious, how about preparing some small but entertaining watching games? Just like guess the plot together, make a bet, and have a drink if you lose the bet.
For example:
Will Rachel kiss Rose in this episode?
If you are the one who guessed wrong, hello, cheers~



How to choose an outdoor movie projector?
The projector must be an important part of this party. Let's take a look at how to choose a good outdoor projector.

-Image quality
Native resolution: like 1080p resolution; the number of individual pixels it can display on a screen; higher is better
Contrast ratio: like 800:1 contrast ratio; the higher this ratio, the better and more immersive the image
Brightness: like 5500 lumens; still higher is better

-Throw ratio
It tells us what image size we can project from a certain distance away. For example, a throw ratio of 1.2 indicates that for every 1 foot of image width, the throw distance must be 1.2 feet.

That said, you don't have to choose the best, because it may cost a lot if you don't intend to spend a big budget on it. Keeping these principles in mind could help you to a sleek bargain.
-Input
Don't forget to check if the interfaces meet your needs.
HDMI is the most popular. And if you are those who dislike intricate cables, feel free to get a WIFI-enabled one.

Friends,  pick up your favorite projector, and then catch up with each other during a wonderful outdoor movie night!